A few words from some of my collectors!
✰✰✰✰✰
The talent Maya has is immeasurable! The details and colours of her paintings are so incredible! I highly recommend her art, whether it's a custom piece or one of her prints as a gift(or for yourself)... you will not be disappointed 👍

—Kris Stanley, Calgary AB - Canada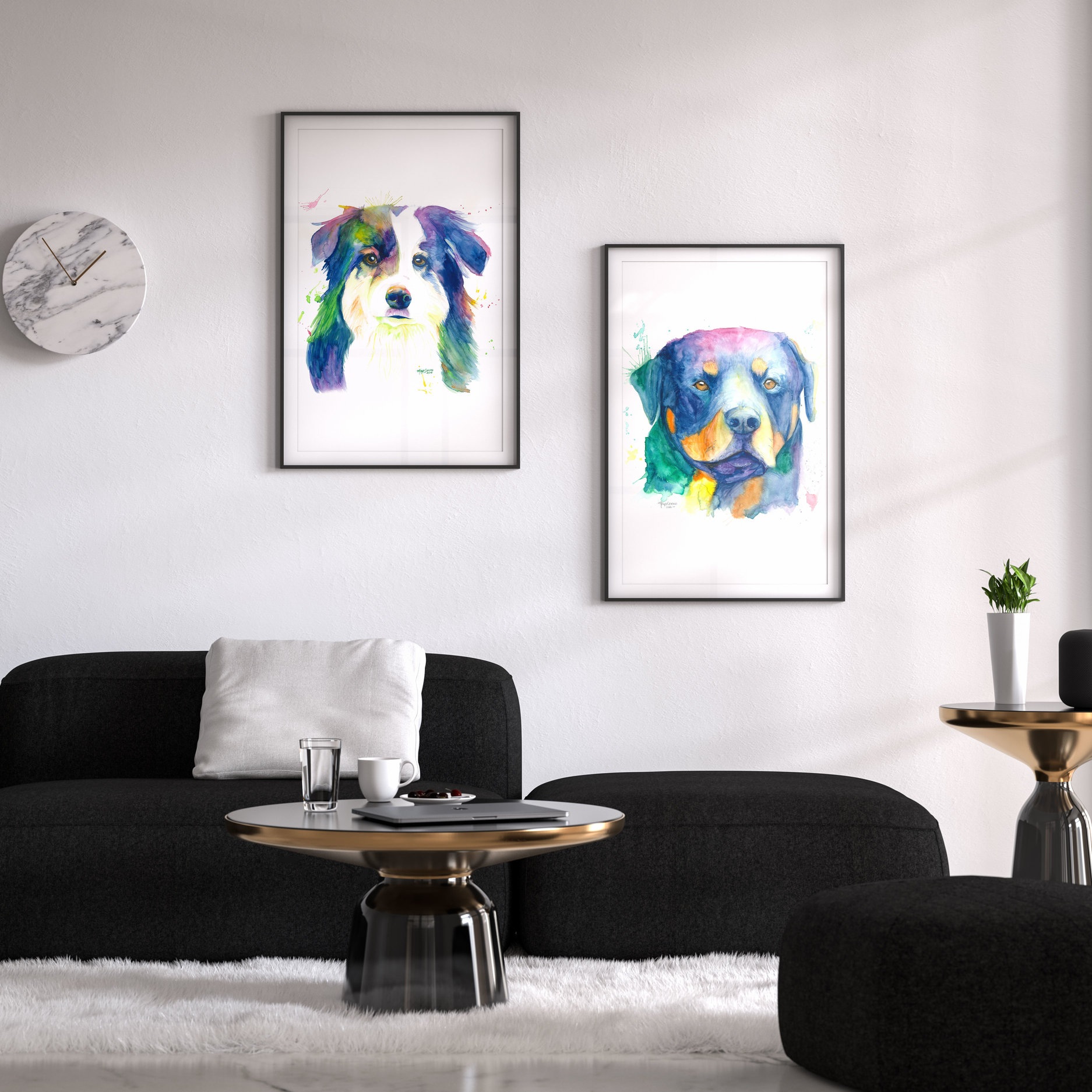 ✰✰✰✰✰
Maya captured the energy and characters in both of our dogs. With her amazing talent she managed to bring them to life with a splash of colour. I would HIGHLY recommend having a portrait done of your FURever best friend!

—Donna Crane, Calgary AB - Canada
✰✰✰✰✰
Our black lab is a member of the family and when I discovered Maya's work I jumped at the chance to have Otis's portrait done for my wife's birthday. We all love it, she captured his essence perfectly with just a hint of whimsy. The painting is a unique and wonderful addition to our home.
—Derek Manns, Calgary AB - Canada
✰✰✰✰✰
I love Maya's eye-catching work, she is absolutely brilliant with the use of colour.
— Mariann Sarquis, Exmouth, Devon -UK
✰✰✰✰✰
The painting I had commissioned is so very special to me. What Maya created has absolutely blown me away. I couldn't imagine anything more perfect.
If you are looking for someone to capture your fur baby in an absolutely stunning way, you won't find better than Maya. This girl is insanely talented. ❤️❤️❤️
— Jessica Hanna, Calgary AB - Canada
✰✰✰✰✰
I've had two pet portraits done by Maya. Words can't describe how beautifully Maya captured their features. She is so talented! Highly recommended, and I look forward to getting more done in the future.
—Darcy Willson, Vancouver BC. Canada
✰✰✰✰✰
Maya made my Heart Warrior this beautiful elephant that shares the same chest scar. It is a powerful and playful piece captures my son's spirit perfectly!
—Kristy Fuller, Prince George, BC. Canada
✰✰✰✰✰
I found Maya through a video posted on LinkedIn, I worked with her to create portraits of my two dogs. I got a sneak peek of her work via Instagram as she was painting Milo and Dex and I was amazed by her skill when I picked up my portraits they were even better in person.
Maya's original artwork is absolutely stunning and I am proud to have her work hanging in my house.
— Lisa Gilmour, Calgary, AB -Canada
✰✰✰✰✰
Back in 2017, Maya did portraits of my two dogs and they are proudly displayed in our living room. The attention to detail is just amazing! She truly captured both their likeness and personality. She's an incredibly talented artist.
— Jessica MacIssac, Calgary , AB. Canada
✰✰✰✰✰
So anyone who knows me knows I am 'simply mad' about Alice in Wonderland.....and when I saw some of Maya's work last summer, I knew I had to have her do a custom piece for me!
Well, my heart! She exceeded expectations with this beautiful Alice in Wonderland piece that I show off at any opportunity I get 😍. I will definitely commission Maya again in the future! Maybe for a Cheshire Cat or Mad Hatter painting 🧐
If you want something REALLY special, then Maya is your gal/artist!!
—Chemaine Linnie, Calgary, AB -Canada
✰✰✰✰✰
"The wolfhound" Thanks to Maya for the gorgeous portrait of Gibson. My friend was very happy with her birthday gift from me.
—Jenn Jellema, Calgary, AB. Canada
Let's work together!
Allow me to capture your connection to a memory in a way that words just can't describe.